CRETE

HERAKLION PREFECTURE

ODEION OF GORTYN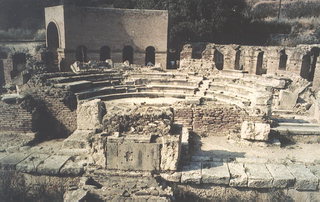 The Odeion is dated to the 1st century A.D. Beneath it there was an Archaic, round building which had the stones of the Law Code of Gortyn built in its walls. These stones were again built in the theatre of the Roman period. The Odeion was destroyed by the Arabs in A.D. 824/7. In 1884, parts of the large inscription (Code of Gortyn) were accidentally brought to light. Excavations in the area of the Odeion were begun in 1899 by F. Halbherr and L. Pernier, and completed in 1921.

The Odeion has been consolidated and the north circular wall, where the inscription is built, is protected within a small structure.

The Odeion has two entrances on the north side, and an orchestra, almost semicircular in plan, lined with white and grey marble slabs. The raised stage (skene) was also paved with bricks and marbles. Four niches for statues were constructed in the north wall of the stage. Of the cavea only three rows of benches are preserved. In the north, circular wall of the Odeion, the Code of Gortyn has been built.
Please share your opinion of it with other travelers. Write a review!