CRETE
HOTELS
RESTAURANTS
CAFE
CAR RENTALS
TRAVEL AGENCY
ARTSHOPS
DIVING
REAL ESTATE
WINE SHOP
NIGHTLIFE
LOCAL PRODUCTS
CAMPING
PHOTOGRAPHY
VILLAS
GYM FITNESS
DAILY CRUISES
BOOKSTORES
GREEK LANGUAGE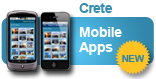 MAP
INFORMATION
VILLAGES
BEACHES
WORTH SEEING
PHOTO GALLERY
VIDEO GALLERY
360 PANORAMAS
TOP 10
E-CARDS
TOPICS
MAILING LIST
NEWS
SEARCH
ABOUT US
LINKS
TERMS


CRETE

BEACHES
PLATANIAS CHANIA
Platanias is easily recognised from the islet across the beach. Ano Platanis offers the view, while Kato Platanias the beach. A great spot, that you s...



Panoramic View

MALEME CHANIA
Maleme is a beatiful sandy beach, located 20 Km from Chania on the road to Kissamos. Maleme is also famous for historical reasons as it is here that t...



Panoramic View

GEORGIOUPOLIS
Georgioupolis is a popular vacation resort with a great long beach (it goes for several Km) and an idyllic harbour with little fishing boats at the no...



Panoramic View

CHRISSI AKTI - CHANIA
Chrissi Akti (Golden beach) is a wonderful beach just outside Chania (about 5 km)....



Panoramic View

K.DARATSO - NEW KYDONIA - CHANIA
A beautiful beach next to Chania on the way to Kissamos (about 3 Km) along Kladissos....



Panoramic View

KALATHAS - CHANIA
Kalathas is a beach on the way to Akrotiri. Beautiful sand and a small islet across the beach....



Panoramic View

AKROTIRI STAVROS - CHANIA
Stavros is located right on the tip of the peninsula of Akrotiri in a beautiful bay at a distance of 14 km from Hania. Stavros is well-known for its ...



GERANI - CHANIA
A small village with a beautiful beach next to Platanias at a distance of about 14 Km west of Chania and 2 Km from Platanias. The beach (a long pebble...



Panoramic View

AGIA MARINA - CHANIA
Agia Marina is a wondeful beach located at a distance of 6 Km from Chania town. At the middle of a long beach, which extends from Katos Stalos to Koly...



Panoramic View

AGIOI APOSTOLI - CHANIA
A great sandy beach at a distance of 6 Km from Chania town. This is where the municipal camping and beach of Hania city are. The local bus reaches it ...



Panoramic View

MALIA
Malia lies at a distance of about 30 Km east of Heraklion. It is one of the mass-tourism spots on the island. Big hotels, wild nightlife, video bars, ...



Panoramic View

HERSONISSOS
We refer to Hersonissos as one but it consists of several small beaches and villages and the main tourist destinations of the area. Hersonissos consis...



Panoramic View

PLAKIAS
Plakias lies along the south coast of Crete, right below the city Rerthimno, one of the bigger towns along North coast. From the airports Heraklion an...



MATALA
Matala is one of the top and best known spots in Crete. It was the ancient port of Phaistos and Gortys (to be exact the harbour of Festos used to be a...



TAVRONITIS
On the way to Kissamos. about 30 Km from Chania. A nice sandy beach....



LYGARIA
A nice small beach between Rethymnon and Herakleion....



NOPIGIA
Nopigia is a beautiful beach from where there is a nice view to the islets of Gramvoussa to the left and Spatha to the right....



KOLYMBARI
A small village with a nice sandy beach and a small fishing port on the way from Chania to Kissamos. In the area of Kolympari lies also the monastery ...



KASTELI
Kastelli is located in the Kissamos gulf on the north west part of Crete about 40 Km from Chania. It is the capital of Kissamos. Ancient Kastelli was ...



PALEOHORA
About 75 Km from Chania on the south part of Crete (Libyan sea) is located Paleochora (or Paliohora) behind a Venetian castle on a small peninsula. Be...



ELAFONISSOS
Elafonissos (or Elafonissi) is one of the most beautiful beaches you could visit in Crete and it is located at the most South and West part of the isl...



HRISSI GAIDOURONISSI
An islet lying exactly opposite Ierapetra 9 n. mi. away, reachable by small excursion boats. It too possesses lovely beaches and cedar trees. Hrissi I...



SOUGIA
Sougia is a small fishing village that lies South at the Libyan sea, about 70 km from the city of Chania. Ancient Syia was here, famous for it'...



KOKINOS PYRGOS
Kokinos pyrgos (red tower) is a small fishing village with a great beach, a small port and several taverns to enjoy local fish....



KOUDOURAS
A great small beach next to Paleohora....



PREVELI
One of the most beautiful places on earth and the most photographed beach of Crete! A beach at the south edge of Kroustaliotiko gorge where the river ...



KATO STALOS
The coastal settlement Kato Stalos abstains 8 km from Chania. It has been developed at length coastal street and the last years Kato Stalos has develo...



MARTSALO
This is where Apostle Paul has disembarked on his journey to Rome and has preached Christianism for the first time. At the middle of a gorge one can s...



VATHI
A narrow bay advances so deeply inland it gives the impression of a lake. Difficult to access from land or sea, Vathi beach is ideal for isolation and...



TRIS EKKLISIES
Tris Ekklisies (3 churches in Greek) can be reached through the dirt road after Pirghos is demanding (a 4X4 vehicle would be useful) but will reward t...



TERTSA
The coastal road going from Mirtos to Arvi is hard to find for non – Cretans. One of Crete's most secluded settlements is Tertsa, for auth...



PLATIA PERAMATA
On the road from Lentas to Kali Limenes, some nice coves and some very primitive bungalows, frequented mainly by locals in August....



MYRTOS
The village has grown bigger these last years but it has kept its charm and its Cretan feeling. Crystal-clear waters and a long beach which is very ra...



MAKRIS GIALOS
The sea deepens so smoothly it gives the feeling that one can walk all the 320 kms to Africa....



LISTIS
Some quiet beaches between Tsoutsouras and Keratokampos, where the main tourist activity is to seat on the beach, watching the day pass and feeling th...



DERMATOS
A summer siesta listening to the waves, a glimpse of paradise!...



KALAMAKI
Beware of where you place your umbrella, you might step on a young caretta-caretta turtle, as this is one of their preferred breeding areas....



BALOS
The most famous landscape of Crete and it is definitely worth it. All the shades of blue and green, a warm, shallow lagoon bursting with sea shells. I...



AGIOS PAVLOS BEACH
Behind the protected creek, 30 meters high dunes and an amazing sunset at triopetra, the three-rocks-cape. Trying to climb up the sand hills on your ...



KERATOKAMBOS
Only sun and sea, no constrains of civilisation, no unnecessary fig leafs…...



KRIOS
The most southwestern part of Crete. Crystal-clear, icy waters, welcome you after the walk on the E4 European mountain path. You can certainly drive ...



ORTHI AMMOS
Orthi Ammos is a great sandy beach next to Fragokastelo. There is local myth that early in the morning, a few days per year, Drosoulites, the lost sou...



AGIA FOTIA
We are not talking about the district with the same name at Ierapetra. Aghia Fotia beach is located at a distance of about 7 kms east of Sitia in an ...



ALMIRIDA
Well hidden from the national road that passes some hundred meters on the north....



HIONA
Shallow waters for the kids and young swimmers, and a well known - all over the island - local fish soup....



FALASSARNA BEACH
Falassarna is a small village at the west coast of Crete which has one of the most famous beaches in Chania area. Crystal clear blue waters, a sub...



GEROPOTAMOS
You can spot its characteristic arks from the National Road connecting Herakleion and Rethimno. Once you get down and harbor in, you will forget abou...



KALO HORIO
A place filled with legends and traditions – but you will find quality tourism services too....



KOUREMENOS
A real magnet for windsurfers from all over the world, who find ideal wind-wave combinations. ...



LAKKI
omething here for everyone: shallow waters for the young, rocky parts for line fishing, Frankokastelo is not far away if you like to immerse yourself ...



LIGGRES
Piece and tranquility without electricity, telephone and other useless devices…...



LISSOS
An hour's walk from Sougia, archaeological ruins testify to the existence of one of the largest cities of ancient Crete, destroyed on the 9th c...



MARIDATI
Two big rocks are the landmarks of this beach that remains unknown to the masses....



MOCHLOS
A village filled with fish taverns with a view of the Pseira Island, and lots of archaeological findings....



MONONAFTIS
With characteristic green waters the most secluded beach in the overdeveloped area of Agia Pelagia....



YALISKARI
As in nearby Paliohora, a cape delimits two distinct beaches, if one is windy we choose the other and vice-versa…...



RIXTI
Three to four hours walk through a gorge or a "nasty" dirt road will take you to one of the most secluded beaches of the island....



RODAKINO
Your bathing suit is optional, your sunscreen products mandatory....



SARAKINIKO
The beautiful golden Sarakiniko beach is the most cosmopolitan beach of the island of Gavdos, meaning there are two taverns and two or three campsR...



KATO ZAKROS
If you follow the two hours long footpath through the "gorge of the dead" (E4-path goes from Zakros through the Gorge of the Dead, 5.5 km ...



PACHIA AMMOS PALEOCHORA
Pachia Ammos is an amazing sandy beach in the area of Paleochora south of Chania. With a great view to the Lybian Sea is thoroughly equipped with long...



POTAMOS GAVDOS
Potamos is a beautiful beach at the north west edge of Gavdos island with characteristic yellow-red sand. Potamos is accesible only by boat as the win...



TRACHOULAS
Trachoulas or Psilli Ammos is located at a distance of about 77 km from Heraklion. It is an amazing tranquil sandy beach (Psilli Ammos in Greek stands...



TSOUTSOURAS
Tsoutsouras or Tsoutsouros is a tranquil small fishing village built next to the ruins of the ancient city of Inatos. It is located at a distance of a...



MENIES
Menies is located at the north east edge of Spatha peninssula. Here you can visit the sanctuary of ancient Diktinna of great archaeological and histor...



PIRGOS
Pirgos is a small, lovely beach in Gavdos. Perfect for those willing to take the 2 hours walking trip from Ambelos. Keep in mind that there are no tav...



KISSAMOS
Kissamos is located at the north west part of Chania prefecture at a distance of about 40 km from Chania city. The beach of Kissamos is a beautiful an...



LOUTRO
The seaside of village is located at a distance of about 71 km. south of Chania, at the end of Cape Mouri. It is believed that this was the site of th...



MARMARA
Marmara (marble in Greek) or Dialiskari is a beautiful pebble beach in a small secluded bay reached only by foot or by boat, located at the exit of th...



DOMATA
Between Agia Roumeli and Sougia is located the stunning and unspoilt beach of Domata. It is located at a distance of about 68 Km south of Chania at th...



SEITAN LIMANIA (STEFANOU BEACH)
Seitan Limania Beach (Stefanou beach) is located near the position of Seitan Limania (i.e. satan harbours), 22km northeast of Chania and 2km east of t...