CRETE
HOTELS
RESTAURANTS
CAFE
CAR RENTALS
TRAVEL AGENCY
ARTSHOPS
DIVING
REAL ESTATE
WINE SHOP
NIGHTLIFE
LOCAL PRODUCTS
CAMPING
PHOTOGRAPHY
VILLAS
GYM FITNESS
DAILY CRUISES
BOOKSTORES
GREEK LANGUAGE
CRETE - REVIEWS
Lee R. Kerr

United States
Atlantis connection
Date : 6- -0 2011 Time : 26 : 2
Rating : Excellent
I have just published Griffin Quest, Investigating Atlantis. A travel adventure to islands of Volcanoes, Winged Lions, Blue Monkeys, and Dwarf Elephants - discover the real Atlantis. A major focus is on the Knossos site that I visited and photographed recently. This is an introduction to the story; You know the story of Atlantis, or at least you think you do. The Story of Atlantis is one of the greatest historical and archeological unsolved mysteries of human history. Did Atlantis exist, and if so, where? Many sites are suggested, but is any the real location of Atlantis? Accompany this detective attorney, historian and amateur archeologist on his personal quest to explore and unravel the evidence of the Atlantis mystery. Join him as he examines the archeological sites, artifacts, and museums, covering 4000 years of history, in a 10 day investigative journey! Join him in Santorini, Crete, and Athens, as he investigates and builds his case for the origins of Atlantis. Enjoy the photography and experience the islands of Santorini and Crete as he guides you through this Atlantis story. Follow him as he ties the Atlantis clues of mythology, history, archeology, geology, language, and genetics back to ancient relationships with Egypt, Spain, and even Ireland! Share the experience of exploring and connecting the archeological evidence of Bronze Age Griffins, (flying eagle headed lions), Dwarf Elephants, and Blue Monkeys, to the Atlantis story. Uncover the evidence of the \"The Pillars of Heracles\" locations, and find out which one belongs to the actual site of Atlantis. Travel with the author as he analyzes the evidence, ties the clues together, and delivers his verdict! This is the Amazon listing: http://www.amazon.com/Griffin-Quest-Investigating-adventure-Volcanoes/dp/0615490131/ref=cm_cmu_pg_t You can order copies at a discount for redistribution or resale at: https://www.createspace.com/3583660 Enter discount code N6AK4SMZ, and receive a $5.00 discount on each copy ordered. Thanks!


Agi

Budapest, Hungary
Returning again!
Date : 8- -0 2006 Time : 06 : 0
Rating : Excellent
Numerous magical places like Spinalonga, Elounda, Agia Galini, Bali, the crystal-clear waters full of life on the southern part and the huge chestnut-forests on the eastern part... Crete, we are returning 2U again in September!


A Travel to Crete User

Dusseldorf, De
dip into the summer
Date : 9- -0 2005 Time : 09 : 2
Rating : Excellent
Just returned from a week in Crete. September is the perfect time to visit Crete. It feels as though the island breathes a sigh of relief after waving goodbye to most of its visitors;the sandy beaches, ancient sites, rugged interior and hills coated with wild flowers are now relatively empty. I had an excellent time!


Ian

Lancashire
Western Crete
Date : 7- -0 2005 Time : 26 : 1
Rating : Excellent
we have been going to Crete now for about 8 years and every year we go we find something different it is a magical island with beaches which are blue flag quality. Any one going for the first tiome must visit the beach at elafonisi and also Falassana is worth a visit


Marcia

Boston
Elafonisi
Date : 1- -0 2005 Time : 10 : 2
Rating : Excellent
One should not go to Crete without ever visiting one of its numerous beaches. In some places, such as Rethymon (where we stayed), beaches stretch miles and miles into the distance. We were told that Elafonisi, with its pink sand and quiet bays, is the most magical one.

We went during the last week of August and the crowd of tourists had significantly reduced by that time, so we were able to find some quiet areas relatively easily. The water of the Sea of Crete is blue-green and very salty, and the sandy beaches are lined with multicolored pebbles along the shore—a wonderful sight. The weather during the long summer months from May to September is warm with a slight breeze by the coast.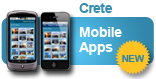 MAP
INFORMATION
PREFECTURES
VILLAGES
BEACHES
WORTH SEEING
CRETE VIDEOS
PHOTO GALLERY
CRETE WEBCAM
360 PANORAMAS
TOP 10
LOCAL PRODUCTS
HISTORY
MOVIES
E-CARDS
MAILING LIST
NEWS
SEARCH
ABOUT US
LINKS
TERMS