CRETE

PHAISTOS

PHAISTOS MONUMENTS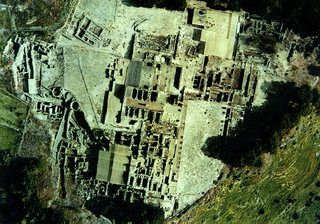 The most important monuments of the site are:
The Palaces (old and new). They are built of ashlar blocks and spread on different terraces. To the central, peristyle court are opened the royal quarters, the storerooms, a lustral basin, and workshops. The monumental propylon and the large staircases faciliate access to the many terraces.
Minoan and later town. Sections of the town have been located at the sites called Chalara and Aghia Photeini, SE and NE of the palace, respectively.
Venetian church of St. George of Phalandra. It lies to the west of the palace, on the left of the road that leads to the archaeological site of Aghia Triada and Matala.
Please share your opinion of it with other travelers. Write a review!