CRETE
HOTELS
RESTAURANTS
CAFE
CAR RENTALS
TRAVEL AGENCY
ARTSHOPS
DIVING
REAL ESTATE
WINE SHOP
NIGHTLIFE
LOCAL PRODUCTS
CAMPING
PHOTOGRAPHY
VILLAS
GYM FITNESS
DAILY CRUISES
BOOKSTORES
GREEK LANGUAGE
AGIOS NIKOLAOS - REVIEWS
mrs karen yeowart

liverpool u.k.
pk's internet cafe.
Date : 7- -0 2006 Time : 20 : 2
Rating : Excellent
we found pk'internet cafe while visiting one of the cruise ships, berthed at the end of the harbour wall,the kids loved the chance to contact friends back home,internet setup is a1,webcams,games section,etc, etc,the business is run by brits,karon+pete and there family,karon serves the best coffee in ag nik and beyond,and pete is a master of cocktails, ice cold draught heinekin is on tap,a good selection of snacks is available ,you can leave the kids talking or surfing net,or just playing games,while you have an hour or two to yourself in ag nik, internet rates are very cheap,but once you go in and see how nice and cozy it is ,and how very hospitable and helpful the owners are,you will probablly sit outside and chill ,and enjoy the breeze,right off the cretan sea,can't wait to go back, (directions)go past twins pizza and pasta parlour on your right,keep walking until you reach end of bar area,pk,s is just at the bend ahead,where cruise ships berth.


Jade Conway

Shropshire
Before you visit Agios Nikolaos....
Date : 4- -0 2006 Time : 01 : 0
Rating : Excellent
Before you visit the fantastic Agios Nikolaos, you need to read my review to get a slight taster of what to expect during your visit. Agios Nikolaos has something for everyone. Whether you want a chilled-out holiday, or to explore the architecture and buildings, along with the interesting history of the island, you will find it all in Crete. Tavernas, bars and restaurants line the "lake" front, looking very inviting. For eating out, there are a range of restaurants open, from serving typical Greek food, to English inspired places: for the less-adventurous eaters! I can definately see why it is called the "st.Tropez" of Crete, with its great range of shops, especcially jewellery shops, and interesting buildings ell over the town. There are also people from other nationalities and countries, such as Americans, Germans and Albanians, and of course:the fellow-British tourist! I have been to Agios Nikolaos 3 times so far on holiday, and I am jetting off again in 2 weeks to experience the Greek Easter! Every single time I have been to Agios Nikolaos, I have made more friends and I have never met an unfriendly Greek person. Infact, our Greek friends have 2 houses, so they have offerwed to let us stay in their 2nd home, at no extra cost! Agios Nikolaos offers something for everyone, and it is certainly a holiday you will never forget: for all the right reasons!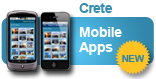 MAP
INFORMATION
PREFECTURES
VILLAGES
BEACHES
WORTH SEEING
CRETE VIDEOS
PHOTO GALLERY
CRETE WEBCAM
360 PANORAMAS
TOP 10
LOCAL PRODUCTS
HISTORY
MOVIES
E-CARDS
MAILING LIST
NEWS
SEARCH
ABOUT US
LINKS
TERMS